Why address gender & sexuality?
---
 Gender & sexuality are central components of healthy identity development for all children and adolescents.
Students bring their individual/collective experiences and questions about gender & sexuality to school every day.
Teachers need concepts and language for engaging with these essential aspects of human identity.
Gender and sexuality stereotypes disrupt classrooms, recess, friendships and critical thinking.
To create a safe learning environment for all members of your community, you must address Gender and Sexuality Diversity.
Why Consider Coaching for Your Professional Growth?
---
You're dedicated to your students, colleagues and community. 
You want to dive deeply into what makes your work valuable and helps you grow professionally.
You don't yet have the right process in place to provide support as you develop and add value to the work you already do.
You are READY! for something more than the occasional conference to inspire your professional development.
Why Build Critical Conversation Skills?
---
  You want to work in an organization or school where people have the capacity to communicate authentically.
 You want to give and receive feedback in ways that enhance professional growth AND build social trust in your community.
 You want to manage the inevitable conflicts that emerge at work purposefully and skillfully.
You want to participate in the deep, vital conversations that give meaning to your work, whether you are talking to one person or speaking in a group of eight.
The Symposium: Intersectionality of Identities in a Global Society at Tower Hill School will bring Upper School students together for meaningful dialogue about cultural competency, equity and inclusion. We invite Sanford, Tatnall and Wilmington Friends schools to join us for presentations by special guest speakers, Jennifer Bryan, Ph.D. and Rosetta Lee.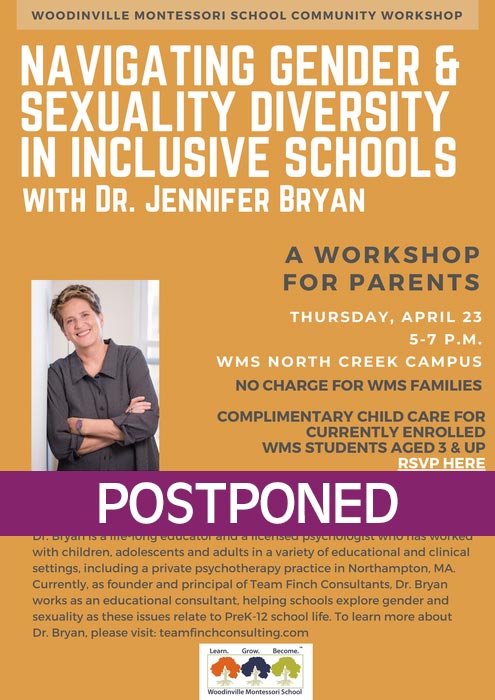 Tenacre Country Day School
Jennifer Bryan is one of the best presenters I've worked with in my career. Years ago I had the pleasure of meeting her for an in-house professional development workshop and we just hosted her at Tenacre for an AISNE workshop. Each time she conducted a master class in professional development for a room full of strangers on a challenging topic. She frames gender, sexuality, gender expression and other identity markers in an accessible way for her audience that has us all thinking critically about our school practices and how we care for the people in our communities. Her presentations are both thought-provoking and practical, offering equal opportunity for deep reflection and pragmatic planning. Participants new to the topics and those who arrive with some expertise all seem to gather helpful information from Jennifer. Her humor, kindness and openness all make her workshops fun, too. Jennifer's presentations have enduring influence on me and my colleagues and I will happily and eagerly work with her again.
-Will Crissman, Head of School, Tenacre Country Day School
Pike School
Thank you so much for your work with the board this past Thursday. Both the content and the thoughtfulness with which you engaged our trustees were outstanding. I have heard nothing but incredibly positive feedback since Thursday, and we are grateful for your open, non-judgmental and thought provoking approach. It is clear to me why you are the best at what you do, and I hope we continue to find ways to partner with you and benefit from your guidance.
-Meerie Joung, Chair, Board of Trustees, Pike School
The Evergreen School
Jennifer is a master at creating a program that is tailored to individual school's needs. We feel fortunate to work with a consultant who not only has deep knowledge of content about gender diversity and education but models her work based on our specific goals and needs…

read more

-Brenda Cram, Former Associate Head of School, The Evergreen School. Seattle, WA
Newark Academy
Jennifer Bryan did a phenomenal job moving our school community towards greater understanding of gender and sexuality diversity through multiple visits over the school year. Jennifer combines deep expertise with approachability, and she is adept at putting everyone at ease as they deal with sensitive topics.  She enlightened our community for which we are all grateful.  I recommend her highly…

read more

-Donald Austin, Head of School, Newark Academy. Livingston, NJ
Charles Wright Academy
Dr. Bryan's skill set is built upon authentic and careful listening and a remarkable ability to say back to a group what they struggle to articulate for themselves. As soon as that happens, she is able to guide the group forward as it works toward desired outcomes. Regardless of topic, she is a fabulous facilitator and invaluable resource to any community navigating culture change…

read more

-Matt Culberson, Head of School, Charles Wright Academy, Tacoma, WA
American Montessori Society
Jennifer Bryan's honest and thought-provoking keynote sessions left many of our attendees wishing for more time with her! She is skilled in understanding that while each attendee may have different experiences and perspectives, everyone needs a framework to support personal and professional growth. As a facilitator, Jennifer was encouraging, respectful, and humorous when appropriate. Her energy helped set the tone of the room, encouraging all to fully participate. I highly recommend Jennifer and hope to work with her again in the future!

-Heather Gerker, Director of Conferences, American Montessori Society, New York, New York
CATDC
A workshop with Jennifer Bryan feels personal and small, despite the room being full of many people. She is a fantastic facilitator, using experience, humor, and empathy to connect to her audience quickly and meaningfully.  She presents her material in a way that is accessible and relevant to classroom teachers and school leaders. Using video, case studies, research, and personal stories to foster a sense of shared exploration amongst the group, Jennifer emphasizes that working on topics of gender and sexuality diversity in our schools is a highly collaborative and human endeavor.

— Eryn Hoffman, Los Angeles Program Director, California Teacher Development Collaborative (CATDC)
Pomfret
Jennifer came to campus for a professional in-service day on the day we returned from a long break, a perhaps unenviable spot to be in, even with the exceptional faculty we have. She was just what we needed at a critical time for these discussions at Pomfret School. She was dynamic, provocative, good-humored, and focused. She helped us develop language and helped us develop important questions to be asking. The faculty responded incredibly well to her thoughtful and informative presentation, and rallied behind the deep thinking she and her team have clearly been doing in the area of gender identity over the past several years. We had begun the conversation about our next steps, and Jennifer provided some new and essential scaffolding for the important work to come. Did we achieve what I was hoping for? Unquestionably. Would I hire her again? Absolutely. Should you bring her to your school? As soon as possible. She is that good!

-Tim Richards, Head of School, Pomfret School, Pomfret, CT
Gordon School
Whether it is leading a conversation with parents after spending the day working with faculty and students, or a phone call with administrators around a particular issue or strategic initiative, Jennifer brings a spirit of collaboration and humor, insight and experience that help us continue to advance the work around building and sustaining an inclusive community. (read more)
– Lynn Bowman, Assistant Head of School, Gordon School, East Providence, RI
Deerfield Academy
In my role as president of NEPSAC I invited Dr. Bryan to our Annual Conference because athletic directors in their roles as school administrators need to be better equipped in understanding the immediate gender challenges of our current binary system of organizing sports for kids. (read more)
– Bob Howe, Director of Athletics, Deerfield Academy, NEPSAC President